Vetting the reliability of the dealer and the quality of the stone and craftsmanship is tough. This checklist will give you the specific questions to ask any retailer to ensure you get the headstone you want.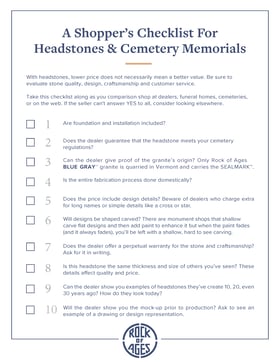 The checklist includes questions like:
Does the dealer guarantee that the headstone meets your cemetery regulations?
Is the entire fabrication process done domestically?
Does the dealer offer a perpetual warranty for the stone and craftsmanship?
Print the checklist or use it on your phone or tablet.